BUXI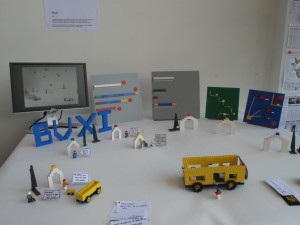 DesignCamp 2010 at Designskolen with IDEO  looked at new ways of transportation. My group's project, Buxi, proposed to create an electric bus-taxi service which incorporates the best elements from public and private transport whilst allowing for fun, small yet pleasant interactions between passengers, creating a valuable new culture of travel.
It aims to encourage the use of a flexible and reliable mode of public transport for commuters that drive to and from work on a daily basis.
BuXi takes into account the most important elements of 3 modes of transport, from the taxi it takes the luxury of being driven whilst sitting comfortably; the affordability of buses; and still keeping that personal space to collect your own thoughts that drivers enjoy on their way to and from work.
The service will be an affordable door to door service with no fixed destinations but will operate on specific areas, for example, Kolding/Vejle or Kolding/Fredericia. The idea is that passenger A, B and C want to go to work, the system finds the quickest way in order to pick them all up and deliver them at their workplaces.
The commuter will be able to use a smart phone application, or a text messaging system if they don't own a smart phone, to book a pick up from its current location, state where he is going to and at what time he/she needs to arrive at its destination. The system will offer immediate feedback on how long the pick up will take and the expected time of arrival at its destination.